Contact us at 403-650-5232 or email service@limitlessdoors.com for a quote or for help with product selection.
Automatic commercial doors welcome visitors, guide traffic, and help preserve indoor climate zones. Sliding, swing, and revolving storefront systems, including commercial entrance doors, offer many ways to provide convenience, secure entrances and meet accessibility standards in any building in and around Calgary, AB.
Assa Abloy Besam Swing Door Openers
Exterior and interior swinging doors provide flexibility, efficiency and automated convenience for every entrance. Low-energy and full-energy commercial swing door operator configurations are available to meet any access requirement. Double the appeal and enhance the functionality of your swing door entrance.
We service Calgary, AB and surrounding area but we have you covered to keep your door way barrier-free for wheel chair accessibility.


Besam Assa Abloy SW100 – Low Energy High Performance
The Assa Abloy SW100 Handicap door opener is a safe and reliable electro mechanical opener to suit your entrance needs. This Low Energy door operator only uses on average 25W of electricity on a 36″ wide door per opening while meeting the gentle push codes to maintain a 5-15lb manual opening force.
32″ – 48″ Wide doors
100lb-200lb max. door weight
Electronic stack pressure compensation for wind pressure
Power assist opening in manual mode to keep pushing force to a min.
Available in different configurations and applications to suit your needs
SW100 is designed to offer continuous use, a high degree of safety and maximum performance over the lifetime of your entrance. Assa Abloy SW100 Brochure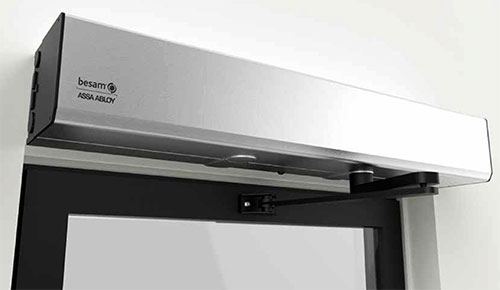 Besam Assa Abloy SW200i – Handicap Door Opener
The ASSA ABLOY SW200i-OHC overhead concealed pedestrian swing door operator provides an aesthetically pleasing solution that is attractive yet incomparably strong. Featuring the same reliable performance with field adaptable adjustment to wind or stack pressure while still maintaining the 5-15lb opening force.
ASSA ABLOY SW200i-OHC overhead concealed doors are an ideal choice for any application that demands smooth operation with strength and rugged performance to accommodate varying conditions and high traffic flow in and around Calgary, AB. The heavy-duty electro-mechanical operator is suitable for use on large heavy doors, yet adaptable enough to be used in low-energy applications.
700lb Max door weight
ECT – Electronic closing torque adapts to overcome varying stack pressures at closing
ITC – Intelligent Trajectory Control controls the swing of the door and compensates when wind or abuse happen to stop the door from being slammed. The total control of the door swing maintains a long life for the door and operator
Stack Pressure Management throughout swing of door
Power assist function makes weight of door between 5-15lbs when used manually
Onboard lock circuitry
Latch retry
Security system integration
Door coordination – for double doors requiring one to close first
Brown out performance – Will continue to operate from 85V to 264V
The SW200i is offered in 3 installation applications:
Surface Mounted Door Opener
The door opener is mounted on a wall or door frame. It allows for a push or pull configuration.
Standard configuration for most door applications.
Concealed Overhead Swing Door Opener
The door opener is mounted in a header directly above the door. The Sw200i concealed is the top pivot of the door assembly and controls the door swing with a more concealed look.
Works very well in an all glass door configuration where the weight of the door could be excessive and controlled without a problem.
Inground / Infloor Swing Door Operator
The door closer is mounted into a case which has been mounted and concreted into the floor slab.
The operator acts as the bottom door pivot and bears the weight of the door while controlling the operation of the door. Works well for custom oversize over weight doors.
• Besam Assa Abloy SW150 and Assa Abloy SW300
The SW150 and SW300 provide a electric mechanical swing door opener in a LOW PROFILE design! With a 70mm header height, Assa Abloy packs in nothing but torque and quality yet with a short header design for your low height clearances.
The SW150 and SW300 keep all the same features as the SW200i as well as SW100, which is what makes this brand perfect for high demand areas such as hospitality, healthcare, airports. The ECT – electronic closing torque as well as the stack pressure management features compensate for stack pressure while maintaining a light door weight while manually opening. With the new low profile line you will get all the standard features yet in a low profile 70mm header height! SW300 Leaflet
Contact us at 403-650-5232 or email service@limitlessdoors.com for a quote or for help with product selection.
Besam Assa Abloy Automatic Sliding Door Systems
The Assa Abloy SL500 automatic sliding door system provides attractive, convenient and practical solutions for door automation at any facility, with a variety of options and configurations. This powerful sliding door system is engineered for high traffic flow environments and provides 20% faster opening speeds. When reliability and rugged performance are required, the ASSA ABLOY SL500 delivers one of the strongest doors on the market today.
Low Energy consumption
Intelligent control board that measures weight and inertia of door during setup
Rugged motor and drive train with electric braking to cushion door for
4 1/2″ or 6″ on piece structural header self supporting at a span of 16′
Max door weight of 300lbs for pedestrian traffic
Max door weight of 450lbs in industrial applications
Heavy duty 4″ carriage with 4″ anti riser for max torque and no door skipping
5 setting local switch with controller for remote switch control for time clock & building integration applications
Heavy duty bottom door guide
Optional electric door lock
Besam SL500 Sliding Door Configurations
There are many options, layouts, styles, functions and colors available to suit your entrance needs.
Standard
Many options are available for your standard overhead concealed or surface mount door setup. The door configurartions would be single sliding doors and bi parting doors.
Eco Door
With upgraded weather seals and hidden door sweeps the Eco Door package can reduce air infiltration by up to 40% than the standard package
Telescoping
A 3 door or 6 door configuration where the clear door opening size is drastically increased. Works great for large equipment moving or for smaller automatic door openings requiring a larger clear opening.
All Glass
Aesthetically pleasing all glass design for an elegant look but with all the features and safety that the Assa Abloy is known for.
Modernization Kits
We remove all the old electronics out of your sliding door and modernize with a SL500 modernization kit as long as your glass and aluminum is still in good shape. Fits most major brands of sliding doors. Check Out Our Modernization Brochure HERE!!!
Clean Room
Assa Abloy clean room sliding doors are approved for ISO3 (Class 1) environments.
.
Besam Assa Abloy Versamax 2.0 ICU Doors – Healthcare Doors
ASSA ABLOY VersaMax 2.0 ICU/CCU Standard sliding doors offers superior patient privacy while maximizing clear door openings to help you meet the demanding requirements of patient and equipment transport. As a global leader in health care door systems Assa Abloy engineers for the future of health care. Versamax 2.0 Hospital Doors Brochure
Trackless door system – Allowing for a smooth ride into the room
NurseAssist magnetic door catch- helps return door to close position
Flushbolt Free Design – you simply slide the door to full open and conveniently swing the door to a breakout position
Option Antimicrobial paint
Optional InteGlass – Glass that smokes out for patient privacy
Option Smoke Infiltration Control – UL1784 Rated with upgraded seals and self latching doors
Contact us at 403-650-5232 or email service@limitlessdoors.com for a quote or for help with product selection.